The History of Gasparilla
Ye Mystic Krewe of Gasparilla Timeline
Ye Mystic Krewe of Gasparilla is founded. This was a horseback invasion staged at the Tampa Bay Hotel to promote the May Day Festival. The first Coronation Ball was held in the hotel's dining room.

The May Day Festival is discontinued. Gasparilla was then held in conjunction with the recently organized South Florida Fair, held in November. Three of Tampa's sixty automobiles participated in the parade this year.

Float prizes were awarded for the first time.

No invasion because of the lack of any other grand occasion with which to coincide.

No invasion because of the lack of any other grand occasion with which to coincide.

No invasion because of the lack of any other grand occasion with which to coincide.

No invasion because of the lack of any other grand occasion with which to coincide.

The Panama Canal Celebration in Tampa re-energizes YMKG.

The first ship invasion was on the rented Samuel T. Beacham, boarded at the Tampa Yacht and Country Club. In the early days, the Krewe never knew until the day before the invasion whether they had a ship or not. Their timetable had to be adjusted to that of whatever ship they could find.

The Gasparilla Carnival Association is established.

The 1st Coronation Ball with entertainment.

1st year YMKG is affiliated with the South Florida Fair. That association existed and the Gasparilla parade continued to end at the fairgrounds until the fair moved to Highway 301 in 1976.

No Gasparilla because of World War I.

No Gasparilla because of World War I.

The first "Pirate's Ball" is held at the Tampa Yacht and Country Club. This would later be known as the Captain's Ball.

The Invasion and Parade of Pirates are broadcast on national radio for the first time.

The Gasparilla Golf Tournament begins in conjunction with the Gasparilla Festival and the South Florida Fair.

The Parade is held at night. The Invasion took place, as usual, during the day.

H. Edgar Wayman writes the "Ballad of Gasparilla", published in The Tampa Tribune on January 14, 1934.

The Florida State Fair and Gasparilla Association is founded.

The Queens Ball, held since the mid 1920's, was officially discontinued. Subsequent queens began the tradition of hosting elaborate cocktail parties for their courts and special guests. The Queen's Party is usually held in the spring following her Coronation.

Edwin D. Lambright, editor of the Tampa Morning Tribune, added authenticity to the legend of Gasparilla with his story: "Life and Exploits of Gasparilla, The Last of the Buccaneers."

YMKG purchases its first ship at a cost of $3,150. The three-masted, oak-beamed schooner, William Bisbee, became the José Gasparilla I. This ship had a 33-foot beam with a length of 143 feet.

The Krewe begins the King's Ball, a dance held annually in the spring. The traditional King's Dinner was sometimes held the same night as the Ball and sometimes one week prior. The King's Ball was discontinued in the 1960s; however, the King's Dinner has continued, as each new King hosts an elaborate dinner for his court, past royalty, and other special guests.

The Opening Ball tradition begins on Thanksgiving Eve, marking the beginning of the Gasparilla season. This would eventually become the Debutante Ball.

No Gasparilla because of World War II.

No Gasparilla because of World War II.

No Gasparilla because of World War II.

No Gasparilla because of World War II.

Joseph R. Mickler becomes the 1st Executive Director of YMKG.

YMKG begins lending its name to the Gasparilla Children's Festival.

The first Debutante Ball is held as 22 young ladies are presented at the Tampa Yacht and Country Club. The idea for a "coming out party" for Tampa's young ladies was inspired by a Mademoiselle magazine article entitled, "Debutantes Down Dixie Way."

The Outward Bound Voyage begins and continues until 1964. The ship sailed back to the Yacht Club where a "closing party" was held. The ship was illuminated and there were fireworks. The name of the Closing Party was later changed to The Pirates Ball, and the party that was held several days before Gasparilla, the original Pirates Ball, would eventually be known as the Captain's Ball.

This year marked the last voyage for the José Gasparilla I. The ship was proclaimed "unseaworthy" in 1952 and the Krewe used borrowed ships for two years before the present ship, José Gasparilla II, was completed for the 1954 Invasion.

Four borrowed ships carried YMKG members during the invasion: the Joseito, Buccaneer's Bride, (also known as Goldfield), Shark, and Sea Wolf.

YMKG christens its second ship, the José Gasparilla II, on January 5, 1954, by King Carlton Cone and Queen Suzanne Lowry with a bottle of old Jamaican rum, at Tampa Ship Repair. Also in attendance were Captain James W. Warren and First Lieutenant Richard McKay. This is the only ship that has been constructed for "piratical" purposes in the past two hundred years. The cost was $100,000 and took seven months to build.

This year marked the 50th Anniversary of YMKG and special coins were produced to commemorate the occasion.

YMKG appears in the September issue of National Geographic Magazine, in an article entitled, "America Goes To The Fair." Excellent pictures of the invading ship and crowds along the Hillsborough River are shown.

YMKG leases a warehouse in Drew Park for parade float storage.

Roy Rogers leads the Gasparilla Parade of Pirates.

The Queen's Luncheon begins. Traditionally, all the past queens gather within a few days of the Coronation to honor the newly crowned Queen.

YMKG begins totally subsidizing the cost of the parade themselves.

The Outward Bound Voyage ends. The Pirates Ball at the Yacht Club would continue, eventually changing its name to the Closing Party, an event that would begin to follow the Night Parade in Ybor City. The Outward Bound Voyage began again in 2008.

The second krewe in Tampa is established, The Krewe of Venus.

General Frank Collins becomes the 2nd Executive Director of YMKG.

The tradition of YMKG hospital visits begins.

The Tea Dance begins and was usually held at Palma Ceia Golf and Country Club. This event introduced the young ladies running for the Court and also presented the Courtiers. Prior to this time, the young women's names were not announced until the night of the Election Party. The Tea Dance was discontinued in 2009.

The first Past Kings' Luncheon is held at the University Club of Tampa. During this luncheon, all the former Kings gather to welcome the newly crowned monarch. In subsequent years, this event became the Past King's Dinner at which the most recent Past King introduced the New King to the group.

The third krewe in Tampa forms, the Krewe of the Knights of Sant' Yago. This krewe took over sponsorship of the Ybor City Night Parade, formerly sponsored by the Ybor City Chamber of Commerce. The parade would then be known as the Krewe of the Knights of Sant' Yago Knight Parade.

This year marked the last voyage of the José Gasparilla II up the Hillsborough River and the Florida State Fair moved to highway 301.

The Parade moves to Bayshore Boulevard.

The Royal Barge begins carrying the Gasparilla Court and other dignitaries, following the José Gasparilla II.

Gasparilla lends its name to the Gasparilla Distance Classic.

Colonel Leonard "Pete" Dileanis becomes the 3rd Executive Director of YMKG.

The History of Ye Mystic Krewe of Gasparilla: 1904-1979, a 75-year history of the Krewe, is written by Nancy Turner.

The Gasparilla Room exhibits open in the Henry B. Plant Museum, located in the University of Tampa's Plant Hall. In 1991, this year-round, permanent Gasparilla exhibit was replaced by a rotating display. This exhibit now utilizes a different theme each year and is open for several weeks during Gasparilla.

The Gunner's Guild is officially established.

Parade participants make it a regular practice to throw beads.

The Gasparilla Invasion and Parade of Pirates moves from Monday to Saturday.

Charles E. Smith becomes the 4th Executive Officer of YMKG.

The Captain's Ball moves to Thursday evening.

The Cut Throat Chorus is established.

Pirate Fest contract awarded to EventMakers.

Gasparilla King, George M. Steinbrenner, III, commits $100,000 per year, for 5 years, from a New York Yankees spring game to form and fund the YMKG Scholarship Foundation. The foundation begins to fund five, four-year scholarships per year to Hillsborough County high school seniors who have excelled in the combination of academics, athletics, and extracurricular leadership, as proposed by their high school administration.

James Tarbet becomes the 5th Executive Officer of YMKG.

The first Saturday Gasparilla Children's Parade is held on Bayshore Boulevard.

The YMKG Scholarship Foundation Golf Tournament is established, with net proceeds to enhance funding of the foundation.

The Salvation Army Red Kettle Committee is established.

The space shuttle Columbia explodes over northern Texas on invasion morning

The Centennial Year celebration. Ye Mystic Krewe of Gasparilla – The First100 Years, is issued as a Centennial history, along with a companion DVD. This 316 page book provides a year-by-year look at the Krewe's history and activities. Each member received a copy as did Tampa Mayor Pam Iorio as well as other public officials and media.

The José Gasparilla II begins anchoring off Bayshore Boulevard during the Gasparilla Children's Parade and participates in the Fireworks Extravaganza with cannon fire. For several days following this parade, members of the Gunner's Guild, aboard the José Gasparilla II, continue to provide cannon fire with their nightly Evening Salutes at 6:30 sharp.

YMKG purchases its new headquarters, located on Cass Street.

The First Outward Bound Voyage since 1964 is held and there is limited participation in the night parade.

The YMKG History Committee is established. This committee was formed to help maintain and protect historical information of the Krewe and to foster a more acute awareness of the organization's history and traditions.

The José Gasparilla is anchored off Bayshore Boulevard for Super Bowl week.

1st "Rookie night" aboard José Gasparilla

Ye Mystic Krewe of Gasparilla is featured on The Today Show in a Super Bowl/Tampa segment.

Donald Barnes becomes the 6th Executive Officer of YMKG.

First Children's Night & Rookie Night on the Jose Gasparilla, II the week of the Parade of Pirates.

First year YMKG gave the Grand Prize Float Winner a banner to display on their float.

New float Skeleton Cove was completed and debuted at the Children's Parade

The Tall Ship Lynx participated in the Gasparilla Invasion

First child cancer patient Pirate-for-a-Day Cruise held on board the Jose Gasparilla, II

YMKG Community Fund Corporation was established as a qualified 501 (c)(3) Not-For-Profit Organization

YMKG and Gasparilla were featured in the International Indian Film Academy Awards Opening Ceremony at Raymond James Stadium

YMKG Debutante Ball location was moved to the Hilton Tampa, Downtown

Seminole Hard Rock Hotel and Casino, Tampa hosted the first annual Charity Dinner at Council Oak SteakHouse with proceeds benefiting the YMKG Community Fund

New float Kraken was introduced at the Children's Parade

The 100th Parade of Pirates

YMKG and EventFest presented all members of the Tampa Police Department official Gasparilla Police Badges

The Aft Crow's Nest was activated for use by Pirates on board the Jose Gasparilla, II

American Idol Semi-Finalist Shannon Magrane composed and performed the ballad "Jose Gaspar" at the annual Coronation Ball

YMKG reactivated the formal reading of a proclamation from the Captain to the Mayor of Tampa in conjunction with the Annual Mayor's Raid

For the first time, the YMKG Community Fund awarded four $10,000 scholarships to high school seniors graduating from public, private and parochial schools in Hillsborough County

New Page Costumes were designed and debuted at the 2016 Children's Parade and Parade of Pirates

New Skull and Treasure Float is presented at the Children's Parade

The Jose Gasparilla, II was featured as the backdrop for media coverage at events leading up to the NCAA College Football National Championship

The Jose Gasparilla, II was featured as the backdrop for media coverage at events leading up to the NCAA College Football National Championship

The YMKG Community Fund conducted the First Annual Sporting Clay Tournament to raise funds for college scholarships

YMKG supported Gasparilla Bowl, featured at Raymond James Stadium
The Pirate
The name and foundation of Tampa's traditional Ye Mystic Krewe of Gasparilla Pirate Invasion and Parade come from legendary pirate Jose Gaspar, "last of the Buccaneers," who terrorized the coastal waters of West Florida during the late 18th and early 19th century. As an aristocrat by birth and officer in the Spanish Navy, Gaspar was well educated, possessed courtly manners and had all the appearances of a fine gentleman. When Jose Gaspar died, he supposedly left an untold fortune in buried treasure somewhere along the Florida coast. Though that treasure has never been discovered, the story of the swashbuckling Gaspar was unearthed and his memory revived in 1904 when Ye Mystic Krewe of Gasparilla was formed and adopted the pirate as patron rogue of their city-wide celebration.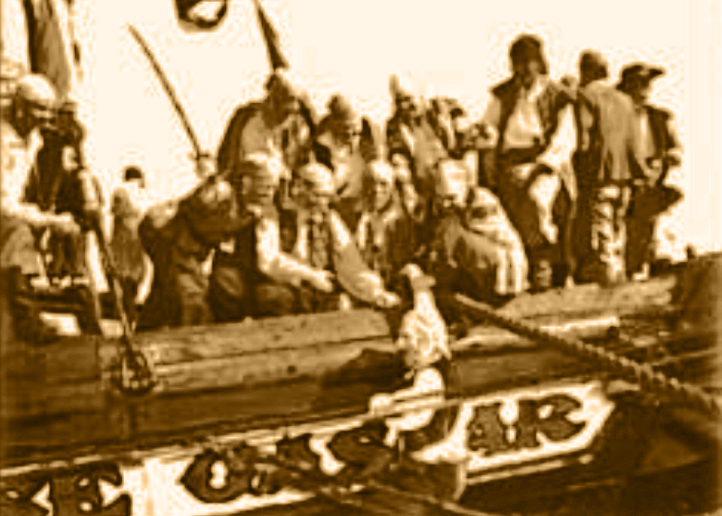 The Extravaganza
Gasparilla began in 1904 when Miss Louise Francis Dodge, society editor of the Tampa Tribune, and George W. Hardee, then with the federal government in Tampa, conspired to promote the City of Tampa and its May Day celebration. Secret meetings gave birth to the first "Ye Mystic Krewe of Gasparilla," whose forty members planned to surprise the populace with a mock pirate attack on Tampa. With costumes rented from New Orleans, the first Krewe arrived on horseback and "captured the city" during the Festival Parade on May 4, 1904. Tampa has upheld its tradition by celebrating Gasparilla every year with only ten exceptions since that infamous first invasion. Gasparilla originally was celebrated on the second Monday in February. In 1988 Gasparilla was moved to a Saturday to allow surrounding communities to take part in the celebration.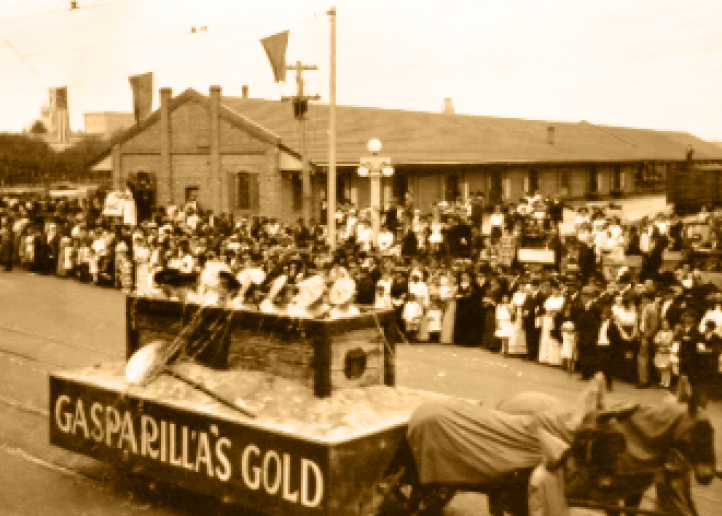 The Krewe
Today, Ye Mystic Krewe of Gasparilla members uphold their mascot Gasparilla as a "hearty old swashbuckler with courtly manners and possibly, just possibly, mischievous habits." When not hosting their annual Children's Parade and Pirate Invasion and Parade, the Krewe promotes tourism by attending community events throughout the year, visiting children in local hospitals, MacDonald's Training Center, and James A. Haley Veterans Hospital, and carries on its social tradition with the annual Debutante and Coronation Balls. Artifacts and memorabilia of Ye Mystic Krewe of Gasparilla are on display annually at the H.B. Plant Museum.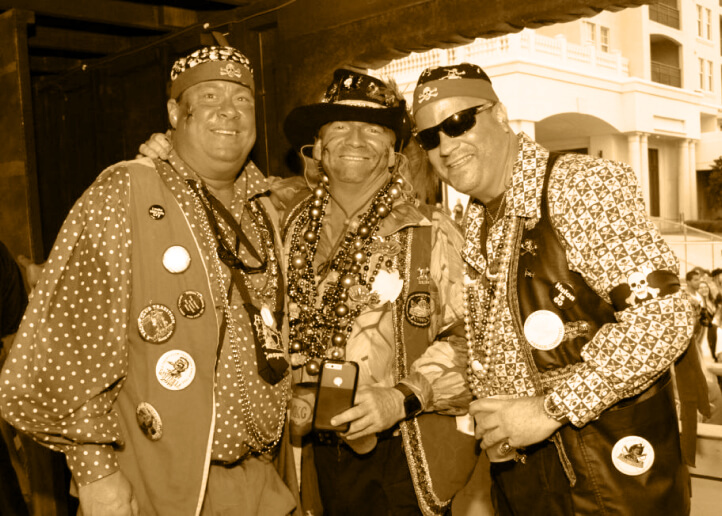 The Ship
In 1911 a ship was used for the first time by YMKG to capture the City of Tampa, but it wasn't until 1937 that the Krewe owned its first vessel, the Jose Gasparilla I. In 1954, YMKG commissioned the building of the world's only fully-rigged pirate ship, Jose Gasparilla II, which was christened during the Krewe's 50 year anniversary. During the year she is usually docked at the Tarpon Weigh Station on Bayshore Blvd. for the public's viewing pleasure. A replica of a West Indiaman used in the 18th century, the ship is constructed of steel at 165' long by 35' across the beam and 3 masts standing 100' tall.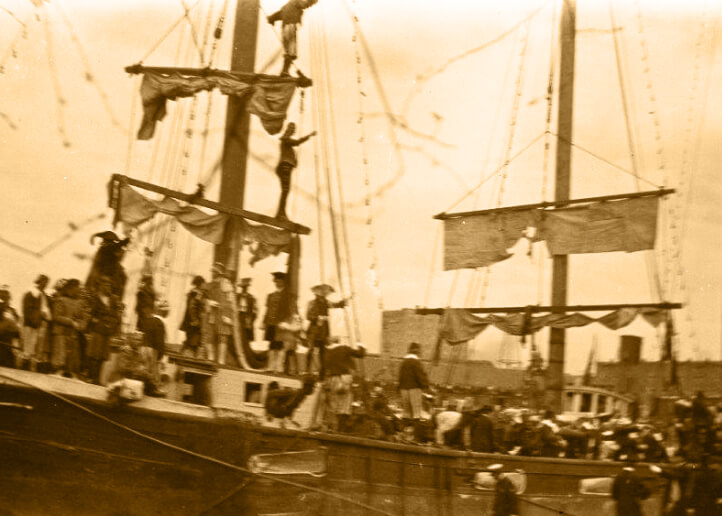 The History of Jose Gasparilla
The History of the Gasparilla Parade
The Life and Death of Jose Gasparilla